How to Find the Recommended Tire PSI and Reset the Tire Pressure Monitoring System On Your Mazda

With spring arriving, there are a number of maintenance concerns you'll want to take care of to make sure you've "de-winterized" you car. Perhaps one of the most important things you can do is check your tire pressure. With changes in temperature come changes in your tires' psi, meaning you'll need to know what the recommended tire pressure for your Mazda is.
The recommended tire pressure can vary by vehicle, tire size and even the tire's location on the vehicle. We will focus on the current lineup here, but if you have an older model, you should be able to find the recommended tire psi on the edge of driver's door frame. You can also contact us for help.
Note that the following tire pressures are for the tires originally fitted to the vehicle as standard equipment. If you've replaced them with another type, you may want to schedule an appointment for service with us for an accurate recommendation.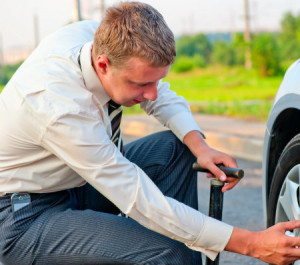 2016 Mazda3: 36 psi
2016 Mazda6: 36 psi for 17-inch/35 psi for 19-inch
2016 Mazda CX-5: 34 psi for 17-inch/36 psi for 19-inch
2016 Mazda CX-3: 36 psi for front/33 psi for rear
2015 Mazda CX-9: 36 psi for 18-inch/34 psi for 20-inch
2016 MX-5 Miata: 29 psi
How to Reset the Mazda Tire Pressure Monitoring System
Since having to check your tire pressure all the time can become a hassle, you'll want to rely on Mazda's tire pressure monitoring system. But in order for the system to know what psi is considered normal, you will need to have the system reset after the tires are adjusted to the proper pressure. Here is what you'll need to do:
Park the car and let the tires cool. This should be done before adjusting the tire pressure.
Switch the ignition on but do not start the engine.
Locate the "SET" button to the left of the steering wheel, then press and hold. The tire pressure warning light in the instrument cluster should flash twice and beep once.
Now that you know what the recommended tire pressure for your Mazda is and how to reset the tire pressure monitoring system, your tires should be inflated to the proper level and your tire pressure warning system should be able to accurately alert you when they run too low. For questions or for help with this process, call the Mazda of Manchester service department at 860-645-4105.